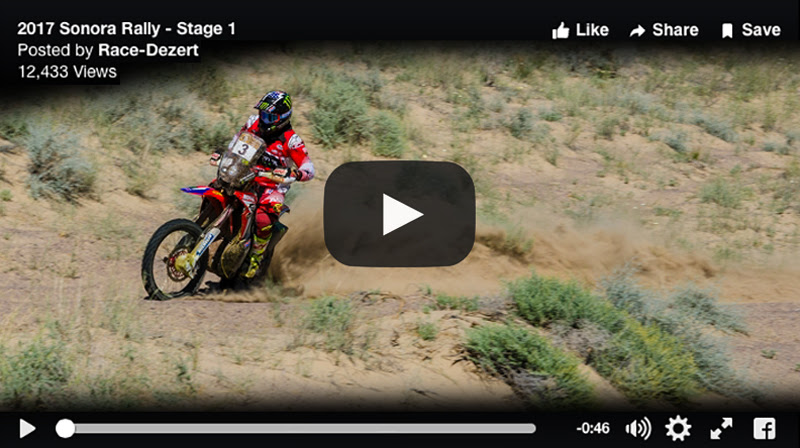 The first stage of the 2017 Sonora Rally is in the books, but it was not without some surprises along the way. "I made a couple small navigation errors," admitted Stage One winner Ricky Brabec, "but I still managed to open the entire course. Everything went well today." The Honda/Monster Energy factory team rider is a Dakar Rally veteran who has already committed to racing Dakar in 2018, but six of the 21 bike field are competing in the Dakar Challenge for a free entry in the largest rally raid event in the world. Mark Samuels finished second to Brabec and is the early leader in the Dakar Challenge, but three more challenging stages remain.
Todd and Kyle Jergensen jumped out to an early lead in the car category. "We learned so much at this event last year," Todd confessed. "This year we came prepared and better organized." The Jergensen family is more familiar with the desert races of Baja, where unlimited prerunning and GPS navigation allow familiarization with the course. Neither GPS or prerunning is allowed at the Sonora Rally, instead rally notes are the only source of navigation.
In UTVs, Jake Povey and Pete Mortensen jumped out to an early lead ahead of Chad Ragland. The duo is representing Menzies Motorsports after Bryce Menzies had to pull out of the Sonora Rally due to an unscheduled surgery. "We were easy on the RZR, easy on the BFGoodrich tires," Povey shared. "The goal is to get Pete more navigation experience in preparation for future rally raid events with Bryce."
Stage Two returns to Puerto Penasco on a new route that promises to deliver more tests for the riders and teams at the 2017 Sonora Rally. "Our goal is for everyone to enjoy their experience," explained event coordinator Darren Skilton. "The beauty of the Sonoran Desert and the amazing food and culture of this region are consistent themes in the rally, but the challenges on the course increase each day."
About Race-Dezert.com
Race-Dezert.com was created by off-road enthusiasts, giving off-roaders a place online to share information about the sport and culture of off-road racing. Based in Southern California, Race-Dezert.com highlights the off-road disciplines of desert racing, short course off-road, stadium truck racing, rally raid, rally racing and rock crawling.

Our goal is to connect the world of off-road racing globally, bringing people together through the common denominator of off-road culture. Whether you are a racer, a promoter, a chase team member, a casual fan, or just interested in learning about off-road, Race-Dezert.com is a place where you can learn about the sport and culture of off-road racing.
Category: Event/Series Announcements